Army.ca Relic
Subscriber
Donor
Reaction score

7,667
Points

1,160
Stepping back from fight for a minute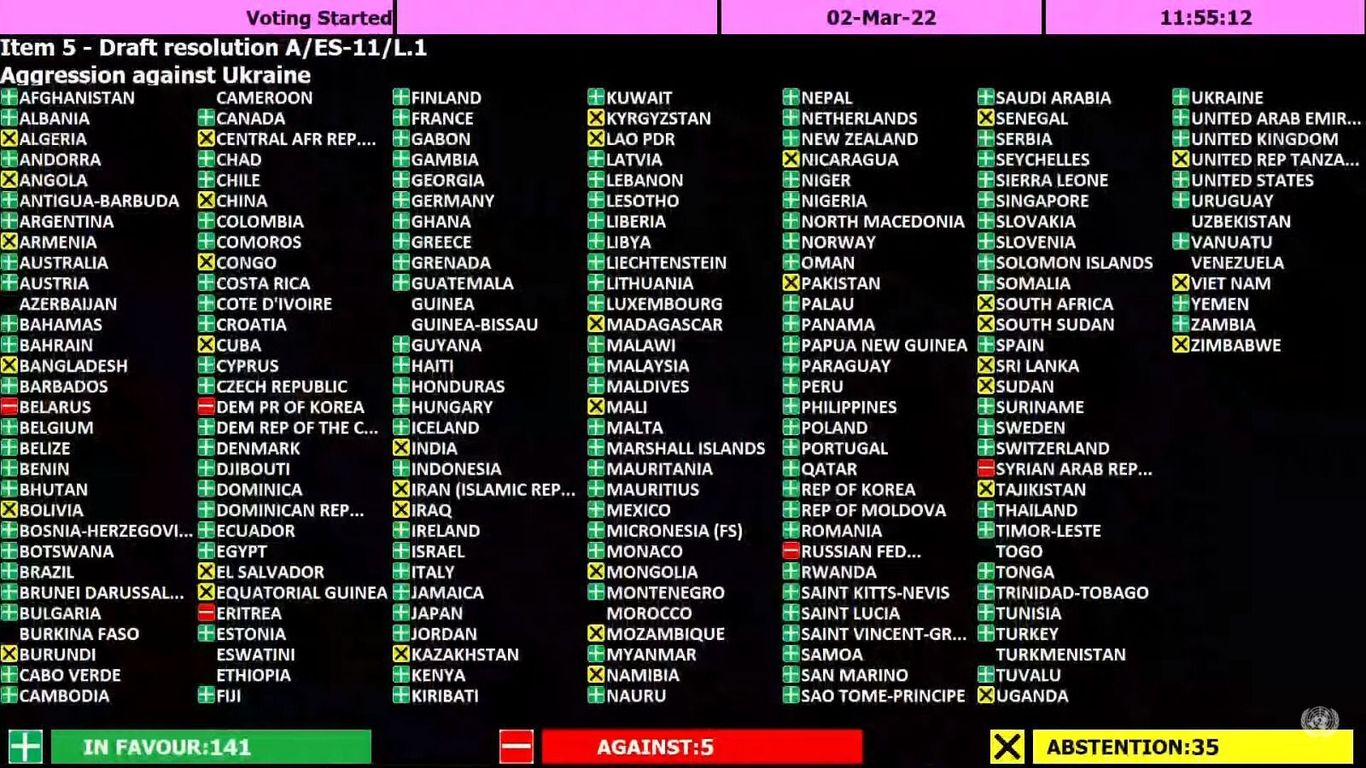 5 countries voted against the resolution, while 35 abstained.
www.axios.com
I spent some time looking at the map of Yeas, Nays and Runaways.
Some suggestions.
Russia has no friends - Belarus, Syria, North Korea and Eritrea don't count.
China has held its client base. And picked up a lot of Russian clients as well.
The Quad of the US, Japan, Australia and India - does not exist. India through its lot in with China.
The waters of the Indian and Pacific Oceans are Western. Full Stop. None of the islands broke ranks.
Vietnam has broken ranks with Malaysia, Singapore, Brunei and the Philippines and supported China.
The remainder of SE Asia, including Burma sided with The West.
The Arab world, including Lebanon, and despite Israel, have sided with The West.
China owns the Stans, including Pakistan and East Pakistan (Bangladesh) and India is more of a frenemy. Nepal and Bhutan are pro west holdouts in the Himalayas.
Aside from a few lodgements in Latin America China is locked out of the Western Hemisphere.
Africa is the battleground.



Pro Brit Propaganda from a Pro Brit.
Britain's independent alliance with both NATO and neutral states in the Baltic, its independent association with Poland and Ukraine, and its open lines of communication with Turks, Arabs and Jews present some opportunities. Especially if the US becomes more isolationist.
The Commonwealth seems to have largely held for The West.
Europe is divided along traditional lines. Baltic, Med, Rhineland, Danube. All bumping into the horsemen of the steps
Mediterranean Europe and North Africa share a lot in common.