They shall grow not old, as we that are left grow old
997 Guests, 61 Users (8 Hidden)
MJP, Headcrab, Gunshark, Traintosucceed, lawchick16, Robert0288, mike12255, NinerSix, kratz, Jim Seggie, RyanHealy29, Chuk, wordsmith, Beadwindow 7, Dimsum, PPCLI Guy, ballz, Twobite, cwatson91, GR66, PuckChaser, Northern Ranger, Fraz, sdavis891, MarkOttawa, JRBond, JesseWZ, Marchog, mgp, RoyalDrew, Bubbles, StarFury, Okanagan Guy, ff149, expwor, ModlrMike, bLUE fOX, Flavus101, SupersonicMax, George Wallace, middle_coast, 2ndChoiceName, E.R. Campbell, Occam, nwhite654, Celeias, medic45, Cam2013, Teltech, TwoTonShackle, NSRecruit, Messorius, ShadyBrah
Total Members: 45,097
Total Posts: 1,235,240
Total Topics: 66,960
Total Categories: 15
Total Boards: 120
2nd Battalion, The Irish Regiment of Canada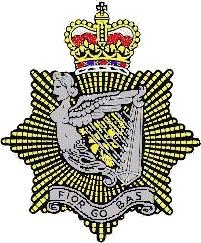 ---
Armorial Description
Superimposed on an eight pointed chipped star, an Irish harp; below the harp a scroll inscribed with the motto FIOR GO BAS; ensigning the harp and super- imposed upon the topmost point of the star, the Crown.
---
Official Abbreviation: 2 Irish R of C

Motto: Fior Go Bas (Faithful unto death)
---
Battle Honours (22)
First World War
ARRAS, 1917,'18
HILL 70
Ypres, 1917
AMIENS
SCARPE, 1918
DROCOURT-QUTANT
HINDENBURG LINE
CANAL DU NORD
PURSUIT TO MONS
FRANCE AND FLANDERS, 1917-1918
Second World War
LIRI VALLEY
MELFA CROSSING
GOTHIC LINE
MONTECCHIO
CORIANO
LAMONE CROSSING
Fosso Munio
Conventello-Comacchio
ITALY, 1943-1945
IJSSELMEER
DELFZIJL POCKET
NORTH-WEST EUROPE, 1945
Colonel-in-Chief: None

Authorized Marches:
Quick March: Garry Owen
Slow March: Endearing Young Charms

Regimental Headquarters:
333 Riverside Drive
Sudbury, Ontario
P3E 1H5

Location of Sub Units: Sudbury, Ontario

Alliances:
The Royal Irish Regiment
St Patrick's Barracks, Ballymena, Northern Ireland

Location of Museums:
Museum:
The Armoury
Sudbury, Ontario
Memorial:
Memorial Park
---
Order of Precedence: 46
---
Go back to the Infantry Regiments page.
Go back to the Army home page.
September 1
1862:
U.S. Civil War: Battle of Chantilly - Confederate General Robert E. Lee leads his forces in an attack on retreating Union troops in Chantilly, Virginia, driving them away.
1864:
U.S. Civil War: Confederate General John Bell Hood evacuates Atlanta, Georgia after a four-month siege mounted by Union General William T. Sherman.
1903:
The Argyll and Sutherland Highlanders of Canada (Princess Louise's): Albainn Cu Brath (Scotland forever)
1939:
The German army invades Poland
1942:
The corvette HMCS MORDEN relentlessly depth charges a submarine off of Iceland. It would not be until a review of records in the late 1980's that U-756 is confirmed sunk.
1944:
Eisenhower establishes HQ in France, Allies liberate Arras, Verdun, Dieppe and Abbeville
» Download the iPhone/iPad Military History app! «