They shall grow not old, as we that are left grow old
338 Guests, 11 Users
Altair, Old EO Tech, Ludoc, GPKJerry, a Sig Op, Jonsey, sidemount, jmt18325, RDBZ, WeatherdoG, wx_watcher
Total Members: 52,661
Total Posts: 1,294,318
Total Topics: 69,079
Total Categories: 14
Total Boards: 119
2nd Battalion, The Irish Regiment of Canada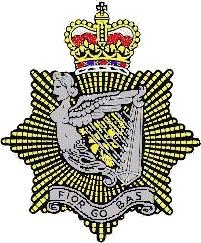 ---
Armorial Description
Superimposed on an eight pointed chipped star, an Irish harp; below the harp a scroll inscribed with the motto FIOR GO BAS; ensigning the harp and super- imposed upon the topmost point of the star, the Crown.
---
Official Abbreviation: 2 Irish R of C

Motto: Fior Go Bas (Faithful unto death)
---
Battle Honours (22)
First World War
ARRAS, 1917,'18
HILL 70
Ypres, 1917
AMIENS
SCARPE, 1918
DROCOURT-QUTANT
HINDENBURG LINE
CANAL DU NORD
PURSUIT TO MONS
FRANCE AND FLANDERS, 1917-1918
Second World War
LIRI VALLEY
MELFA CROSSING
GOTHIC LINE
MONTECCHIO
CORIANO
LAMONE CROSSING
Fosso Munio
Conventello-Comacchio
ITALY, 1943-1945
IJSSELMEER
DELFZIJL POCKET
NORTH-WEST EUROPE, 1945
Colonel-in-Chief: None

Authorized Marches:
Quick March: Garry Owen
Slow March: Endearing Young Charms

Regimental Headquarters:
333 Riverside Drive
Sudbury, Ontario
P3E 1H5

Location of Sub Units: Sudbury, Ontario

Alliances:
The Royal Irish Regiment
St Patrick's Barracks, Ballymena, Northern Ireland

Location of Museums:
Museum:
The Armoury
Sudbury, Ontario
Memorial:
Memorial Park
---
Order of Precedence: 46
---
Go back to the Infantry Regiments page.
Go back to the Army home page.
September 5
1939:
USA proclaims neutrality in European war
1940:
HMS DIANA, a British destroyer is recommissioned as HMCS MARGAREE after a lengthy refit at the Albert Docks in London, UK. This is to replace the loss of HMCS FRASER sunk off the Brittany coast in a collision with a British freighter in June.
1942:
Realizing their ship has became a target for an unseen U-boat, the crew of the Canadian Merchantman Lord Strathcona abandons ship just before torpedoes pierce her hull while laying at anchor off Conception Bay, Newfoundland.
» Download the iPhone/iPad Military History app! «