They shall grow not old, as we that are left grow old
469 Guests, 20 Users (4 Hidden)
AlexanderM, MARS, Hamish Seggie, aniQazam, MilEME09, LunchMeat, Riffraff, Rhodesian, Dimsum, VancouverIslandHunter, Singh, Mazer, GK .Dundas, PikaChe, jmt18325, Wrangler
Total Members: 57,713
Total Posts: 1,356,623
Total Topics: 70,695
Total Categories: 14
Total Boards: 120
2nd Battalion, The Irish Regiment of Canada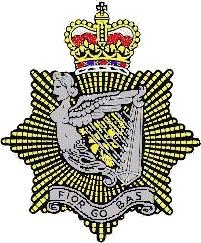 ---
Armorial Description
Superimposed on an eight pointed chipped star, an Irish harp; below the harp a scroll inscribed with the motto FIOR GO BAS; ensigning the harp and super- imposed upon the topmost point of the star, the Crown.
---
Official Abbreviation: 2 Irish R of C

Motto: Fior Go Bas (Faithful unto death)
---
Battle Honours (22)
First World War
ARRAS, 1917,'18
HILL 70
Ypres, 1917
AMIENS
SCARPE, 1918
DROCOURT-QUTANT
HINDENBURG LINE
CANAL DU NORD
PURSUIT TO MONS
FRANCE AND FLANDERS, 1917-1918
Second World War
LIRI VALLEY
MELFA CROSSING
GOTHIC LINE
MONTECCHIO
CORIANO
LAMONE CROSSING
Fosso Munio
Conventello-Comacchio
ITALY, 1943-1945
IJSSELMEER
DELFZIJL POCKET
NORTH-WEST EUROPE, 1945
Colonel-in-Chief: None

Authorized Marches:
Quick March: Garry Owen
Slow March: Endearing Young Charms

Regimental Headquarters:
333 Riverside Drive
Sudbury, Ontario
P3E 1H5

Location of Sub Units: Sudbury, Ontario

Alliances:
The Royal Irish Regiment
St Patrick's Barracks, Ballymena, Northern Ireland

Location of Museums:
Museum:
The Armoury
Sudbury, Ontario
Memorial:
Memorial Park
---
Order of Precedence: 46
---
Go back to the Infantry Regiments page.
Go back to the Army home page.
August 26
1071:
Battle of Manzikert: The Seljuk Turks defeat the Byzantine Empire at Manzikert.
1346:
Hundred Years' War: The military supremacy of the English longbow over the French combination of crossbow and armoured knights was established at the Battle of Crécy.
1429:
Joan of Arc enters Paris.
1862:
U.S. Civil War: The Second Battle of Bull Run begins.
1914:
Germany defeats Russia in Battle of Tannenberg.
1914:
The British Expeditionary Force briefly checked the German advance at Le Cateau.
1918:
SCARPE, 1918, effective dates for battle honour begin (to 30 Aug 18)
1918:
The first battle of ARRAS, 1918, effective dates for battle honour begin (to 3 Sept 18)
1918:
VC won by Lt Charles Smith Rutherford, 5th Canadian Mounted Rifles Battalion, CEF, Monchy-le-Preux, France
1957:
The Soviet Union tests an ICBM.
55BC:
Julius Caesar invades Britain.
» Download the iPhone/iPad Military History app! «