They shall grow not old, as we that are left grow old
757 Guests, 60 Users (5 Hidden)
PuckChaser, biggie786, Sheep Dog AT, Ayrsayle, Petard, Amak503, KJK, E.R. Campbell, Crantor, 0tto Destruct, SNB, jacob_of_canada, trampbike, ayo23, Timex, X Royal, Mike7788, expwor, 9hb13, HB_Pencil, Mountie, Harris, johnsr19, geodan, Kirkhill, snasd17, kratz, fed_up, Master Corporal Steven, RedcapCrusader, DAA, motox701, Kat Stevens, captloadie, mick, jolessana, llin_X, youngtpr, dangerboy, runormal, jollyjacktar, Bruce Monkhouse, AmmoTech90, asserobiotows, Ruthie, MedicTWO, Kyle Burrows, Old Sweat, medicineman, Rifleman62, Captain Mark, milnews.ca, Crossfire, SipsSwadia, Beadwindow 7
Total Members: 48,493
Total Posts: 1,264,555
Total Topics: 68,074
Total Categories: 14
Total Boards: 119
The Hastings and Prince Edward Regiment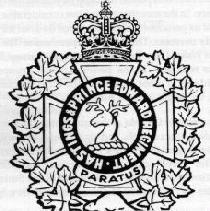 ---
Armorial Description
Between two sprays of maple leaves, a Maltese Cross; below the Cross and joining the base of the sprays, a beaver facing dexter, on a log. Between the points of the sprays and surmounting the upper arm of the Cross, the Crown. Upon the Cross an annulus inscribed HASTINGS AND PRINCE EDWARDS REGIMENT: within the annulus a stag's head, facing dexter, upon a wreath. Below the annulus a scroll bearing the motto PARATUS.
---
Official Abbreviation: Hast & PER

Motto: Paratus (Ready)
---
Battle Honours (40)
Early History
First World War
Mount Sorrel
Somme, 1916
Arras, 1917, '18
HILL 70
YPRES, 1917
AMIENS
HINDENBURG LINE
PURSUIT TO MONS

Second World War
Landing in Sicily
Grammichelle
Valguarnera
ASSORO
Agira
Adrano
Regalbutto
SICILY, 1943
Landing at Reggio
Motta Montecorvino
CASSINO II
Gustav Line
Liri Valley
HITLER LINE
GOTHIC LINE
Lamone Crossing
Misano Ridge
RIMINI LINE
SAN FORTUNATO
Bulgaria Village
Campobasso
Torella
THE MORO
San Leonardo
The Gully
Ortona
Naviglio Canal
Fosso Vecchio
ITALY, 1943-1945
Apeldoorn
NORTH-WEST EUROPE, 1945
Authorized Marches:
I'm Ninety Five

Regimental Headquarters:
Belleville Ontario

Outlying Locations:
Peterborough ONT
Cobourg ONT

Organization:
Assoro Coy (Belleville)
Moro Coy (Peterborough)
Cassino Coy (Cobourg)
Somme Coy (Admin and Log, divided among all 3 locations)

Misc Info:
The Regimental mascot is a near life-sized wooden indian named: "Chief Petawawa-Much"
The Regiment has a tradition: When a member or former member dies they are said to have transferred to "The White Battalion."
The Cap badge of the Hast Per is backed in crimson.
The Hast & PER received the most Battle Honours of all Canadian regiments during the second world war. (31 in total for this campaign)
The official regimental nickname: "The Ploughjockies" earned during WWII, given at first antagonistically by some of the Toronto Regiments because of the Hasty P's rural roots. It became a mark of distinction as the unit's fighting prowess became well known.
B Coy (present day Moro Coy) was reactivated with the reduction to nil strength, and subsequent disbandment of The Peterborough Rangers, Royal Canadian Artillery. This Battery had made it's home in the Peterborough armoury, from the time of it's construction. (I believe in 1915).
The book "The Regiment" was written by Farley Mowat, a former Intelligence officer (also serving as an Infantry officer), and member of the Regiment during WWII.
---
Order of Precedence: 9
---
Go back to the Infantry Regiments page.
Go back to the Army home page.

Options

Infantry Regiments page.
Go back to the Army home page.
March 4
1747:
Born on this date Count Casimir Pulaski, soldier, American Revolutionary War general.
1814:
Americans defeat British at Battle of Longwoods; between London and Thamesville.
1941:
British naval raid on German-occupied Lofoten Islands off Norway sinks eleven German ships
1942:
The submarine HMS Torbay, under Commander Miers, followed an Axis convoy and succeeded in penetrating the heavily defended anchorage at Corfu. Torbay proceeded to fire torpedoes at two large transports and a destroyer - both transports were reported sunk - then retreated out to sea under very heavy depth charge attack. Torbay escaped successfully, and Miers was awarded the Victoria Cross for the exploit.
1943:
HMC Ships ST. CROIX and SHEDIAC team up to attack and sink U-87 200 miles west of Portugal. This is the same submarine that was attacked by shore based aircraft after being spotted on the surface in the approaches to Halifax harbour boldly just a few months before.
1944:
First major USAAF raid on Berlin
1944:
Soviet offensive on Belorussian front begins
1991:
Saddam Hussein releases 6 US, 3 British and 1 Italian POW.
» Download the iPhone/iPad Military History app! «