They shall grow not old, as we that are left grow old
757 Guests, 28 Users (2 Hidden)
TwoTonShackle, acen, x80, eliminator, a Sig Op, RedcapCrusader, fiddlehead, kkwd, cele-am, jemcgrg, CCR, Mike Bobbitt, Jayjaycf, Excelsior, Old Sweat, Sparkplugs, MeanJean, runormal, Larry Strong, alex.74, PPCLI Guy, 211RadOp, B38890, receng, ThermosPotato, mrjasonc
Total Members: 44,990
Total Posts: 1,234,312
Total Topics: 66,919
Total Categories: 15
Total Boards: 120
Les Fusiliers du St-Laurent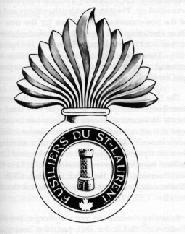 ---
Armorial Description
On a gold grenade fired proper of fifteen, a blue annulet edged gold, inscribed with the words FUSILIERS DU ST-LAURENT and marked at base by a gold maple leaf. Within the annulet a tower proper.
---
Official Abbreviation: Fus du St-L

Motto: J'y Suis En Garde (I am on guard)
---
Battle Honours (1)
First World War
---
Order of Precedence: 18
---
Go back to the Infantry Regiments page.
Go back to the Army home page.
August 27
1776:
Battle of Long Island, in present day Brooklyn, New York British forces under General William Howe defeat Americans under General George Washington.
1813:
Napoleon defeats the Austrians, Russians and Prussians at the Battle of Dresden.
1828:
The Russians defeat the Turks at Akhaltzikke.
1861:
U.S. Civil War: Union forces attack Cape Hatteras, North Carolina.
1896:
The shortest war in history (0902h - 0940h) between the United Kingdom and Zanzibar. Zanzibar surrenders.
1928:
Kellogg-Briang Pact: 15 nations (including Britain, France, Germany, Italy, Japan, USA - and later most members of the League of Nations) agree to renounce war as a means of settling international disputes; but agree there is no means of enforcing t
1944:
MONTECICCARDO, effective dates for battle honour begin (to 28 Aug 44)
1979:
An IRA bomb kills Lord Mountbatten and 3 others on holiday in Sligo, Republic of Ireland. Another near Warrenpoint, Northern Ireland kills 18 British soldiers.
» Download the iPhone/iPad Military History app! «