They shall grow not old, as we that are left grow old
642 Guests, 38 Users (6 Hidden)
Haggis, Magisterjuris, Infanteer, Charmion, Old Sweat, Remius, Fluff, Flavus101, NFLD Sapper, Titicboom, Arty39, ArmedAndUseless, AlexanderM, GR66, Larry Strong, MJP, AbdullahD, WA88, SSmokePunk, DAA, kratz, Rick Goebel, sidemount, 211RadOp, Katielily, Flyonthewall11, wordsmith, cavalryman, OldTanker, MarkOttawa, WestGirl36, Kyle Burrows
Total Members: 58,415
Total Posts: 1,365,582
Total Topics: 70,975
Total Categories: 14
Total Boards: 120
Les Fusiliers du St-Laurent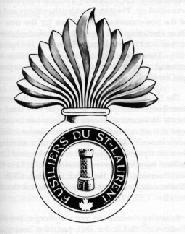 ---
Armorial Description
On a gold grenade fired proper of fifteen, a blue annulet edged gold, inscribed with the words FUSILIERS DU ST-LAURENT and marked at base by a gold maple leaf. Within the annulet a tower proper.
---
Official Abbreviation: Fus du St-L

Motto: J'y Suis En Garde (I am on guard)
---
Battle Honours (1)
First World War
---
Order of Precedence: 18
---
Go back to the Infantry Regiments page.
Go back to the Army home page.
October 28
1664:
King Charles II sanctioned the formation of the Duke of York and Albany's Maritime Regiment of Foot - the first Regiment to be formed specifically for service afloat. The Regiment was raised mainly from the Trained Bands of the City of London.
1664:
The Birth of the Royal Marine Corps
1940:
The RCR are relieved from Costal Guard, Reigate, England
» Download the iPhone/iPad Military History app! «