They shall grow not old, as we that are left grow old
746 Guests, 54 Users (7 Hidden)
kev994, Blackadder1916, ballz, Messorius, MJP, Greybeard, Green, Petard, CCR, Jonsey, GreenWood, MARS, Dimsum, Bird_Gunner45, Halifax Tar, MMcKiernan93, Ludoc, HULK_011, trooper142, Hamish Seggie, MedicTWO, Kat Stevens, Stacked, NinerSix, kkwd, RubberTree, pratch, SupersonicMax, SeleneRive, Shela9309, StarFury, ModlrMike, northbound23, YZT580, xbowhntr, AJFitzpatrick, Sigs Pig, expwor, Gee-MAN, WestCoaster, Retired AF Guy, FSTO, Haroldmom, MilEME09, Infanteer, bLUE fOX, PMedMoe
Total Members: 48,503
Total Posts: 1,264,635
Total Topics: 68,074
Total Categories: 14
Total Boards: 119
Les Fusiliers du St-Laurent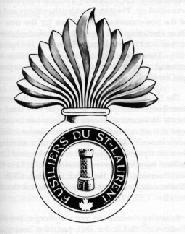 ---
Armorial Description
On a gold grenade fired proper of fifteen, a blue annulet edged gold, inscribed with the words FUSILIERS DU ST-LAURENT and marked at base by a gold maple leaf. Within the annulet a tower proper.
---
Official Abbreviation: Fus du St-L

Motto: J'y Suis En Garde (I am on guard)
---
Battle Honours (1)
First World War
---
Order of Precedence: 18
---
Go back to the Infantry Regiments page.
Go back to the Army home page.
March 4
1747:
Born on this date Count Casimir Pulaski, soldier, American Revolutionary War general.
1814:
Americans defeat British at Battle of Longwoods; between London and Thamesville.
1941:
British naval raid on German-occupied Lofoten Islands off Norway sinks eleven German ships
1942:
The submarine HMS Torbay, under Commander Miers, followed an Axis convoy and succeeded in penetrating the heavily defended anchorage at Corfu. Torbay proceeded to fire torpedoes at two large transports and a destroyer - both transports were reported sunk - then retreated out to sea under very heavy depth charge attack. Torbay escaped successfully, and Miers was awarded the Victoria Cross for the exploit.
1943:
HMC Ships ST. CROIX and SHEDIAC team up to attack and sink U-87 200 miles west of Portugal. This is the same submarine that was attacked by shore based aircraft after being spotted on the surface in the approaches to Halifax harbour boldly just a few months before.
1944:
First major USAAF raid on Berlin
1944:
Soviet offensive on Belorussian front begins
1991:
Saddam Hussein releases 6 US, 3 British and 1 Italian POW.
» Download the iPhone/iPad Military History app! «