They shall grow not old, as we that are left grow old
389 Guests, 11 Users (1 Hidden)
Beadwindow 7, kkwd, Scott, LunchMeat, Mike Bobbitt, FinnO25, NFLD Sapper, E.R. Campbell, milnews.ca, Green On!
Total Members: 62,189
Total Posts: 1,402,912
Total Topics: 71,315
Total Categories: 13
Total Boards: 122
Les Fusiliers du St-Laurent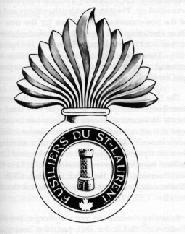 ---
Armorial Description
On a gold grenade fired proper of fifteen, a blue annulet edged gold, inscribed with the words FUSILIERS DU ST-LAURENT and marked at base by a gold maple leaf. Within the annulet a tower proper.
---
Official Abbreviation: Fus du St-L

Motto: J'y Suis En Garde (I am on guard)
---
Battle Honours (1)
First World War
---
Order of Precedence: 18
---
Go back to the Infantry Regiments page.
Go back to the Army home page.
August 18
1917:
VC won by A/Major Okill Massey Learmouth MC, 2nd Battalion, CEF, Hill 70, France (posthumous)
1917:
VC won by Sgt Frederick Hobson, 20th Battalion, CEF, Hill 70, France (posthumous)
1944:
VC won by Major David Vivian Currie, 29th Armoured Reconnaissance Regiment (The South Alberta Regiment), St. Lambert-sur-Dives, France
» Download the iPhone/iPad Military History app! «