They shall grow not old, as we that are left grow old
461 Guests, 42 Users (4 Hidden)
E.R. Campbell, Dimsum, M16LR.50, Arcset, Kirkhill, Good2Golf, TB, JoleenY66, AmmoTech90, George Wallace, Don2wing, MJP, Sheep Dog AT, leroi, Rocky Mountains, StokeMan, RoyalDrew, jollyjacktar, mellauren, Robert0288, Rescue Randy, sha106, LightFighter, CF_Pilot, tango22a, PuckChaser, Sigs Pig, Blackadder1916, Bird_Gunner45, Crantor, xFusilier, Stonegeneral, RocketRichard, Fraz, ZxExN, dangerboy, Ostrozac, dbarr078
Total Members: 52,656
Total Posts: 1,294,272
Total Topics: 69,078
Total Categories: 14
Total Boards: 119
Les Fusiliers du St-Laurent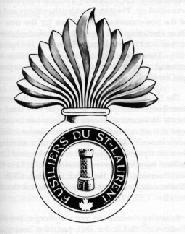 ---
Armorial Description
On a gold grenade fired proper of fifteen, a blue annulet edged gold, inscribed with the words FUSILIERS DU ST-LAURENT and marked at base by a gold maple leaf. Within the annulet a tower proper.
---
Official Abbreviation: Fus du St-L

Motto: J'y Suis En Garde (I am on guard)
---
Battle Honours (1)
First World War
---
Order of Precedence: 18
---
Go back to the Infantry Regiments page.
Go back to the Army home page.
September 4
1886:
Indian Wars: After almost 30 years of fighting, Apache leader Geronimo surrenders with his last band of warriors to General Nelson Miles at Skeleton Canyon in Arizona.
1939:
First RAF attacks on German Navy
1940:
World War II: The USS GREER becomes the first United States ship fired upon by a German submarine in the war, even though the United States is a neutral power. Tension heightens between the two nations as a result.
1944:
World War II: The British 11th Armored Division liberate the city of Antwerp in Belgium.
1945:
World War II: Japanese forces surrender on Wake Island after hearing word of their nation's surrender.
1950:
The "Beetle Bailey" comic strip begins.
1950:
The "Beetle Bailey" comic strip begins.
1951:
The first live transcontinental television broadcast takes place in San Francisco, California from the Japanese Peace Treaty Conference.
1967:
Vietnam War: Operation Swift begins - The United States Marines launch a search-and-destroy mission in Quang Nam and Quang Tin Provinces. The ensuing 4-day battle in Que Son Valley kills 114 Americans and 376 North Vietnamese.
476:
Romulus Augustus, the last emperor of the Western Roman Empire, is deposed when Odoacer proclaims himself King of Italy.
» Download the iPhone/iPad Military History app! «