They shall grow not old, as we that are left grow old
499 Guests, 34 Users (8 Hidden)
Good2Golf, Boysen, ridsteram, Maximus44, WestCoaster, MilEME09, CCR, messupdude, Northern Ranger, GAP, PuckChaser, Simian Turner, FSTO, kev994, Chris Pook, kkwd, xFusilier, SunshineD, Skoubi, E.R. Campbell, Nate2664, xoulliam, jollyjacktar, deskjockey43, DexterAust, Flyonthewall11
Total Members: 60,354
Total Posts: 1,389,254
Total Topics: 71,734
Total Categories: 13
Total Boards: 120
Les Fusiliers du St-Laurent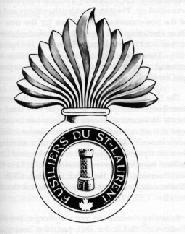 ---
Armorial Description
On a gold grenade fired proper of fifteen, a blue annulet edged gold, inscribed with the words FUSILIERS DU ST-LAURENT and marked at base by a gold maple leaf. Within the annulet a tower proper.
---
Official Abbreviation: Fus du St-L

Motto: J'y Suis En Garde (I am on guard)
---
Battle Honours (1)
First World War
---
Order of Precedence: 18
---
Go back to the Infantry Regiments page.
Go back to the Army home page.
April 23
1915:
VC won by L/Cpl Frederick Fisher, 13th Battalion, CEF, St Julien, Belgium (posthumous)
1918:
Captain E. Bamford, Royal Marine Light Infantry awarded the Victoria Cross
1918:
Sergeant N. A. Finch Royal Marine Artillery awarded the Victoria Cross
1918:
The raid on Zeebrugge
1939:
Following the end of the civil war in Spain The United States recognizes the Franco government.
1945:
Batlle of Delfzijl
1945:
DELFIJL POCKET, effective dates for battle honour begin (to 2 May 45)
» Download the iPhone/iPad Military History app! «