They shall grow not old, as we that are left grow old
412 Guests, 44 Users (11 Hidden)
PuckChaser, Log Offr, x-grunt, WeatherdoG, Max Power22, Guy Incognito, milnews.ca, cathdesl, sarahnicole, hockeyboy705, thakurchris, FyroniK, PMedMoe, ballz, WWU3203, sidemount, devil39, Maximus44, krustyrl, MilEME09, tomahawk6, ff149, kkwd, Occam, Eagle Eye View, Teager, medicineman, MARS, Bounsong_Sisourath, runormal, Brasidas, Jayjaycf, MJP
Total Members: 58,890
Total Posts: 1,371,145
Total Topics: 71,165
Total Categories: 14
Total Boards: 120
Les Fusiliers du St-Laurent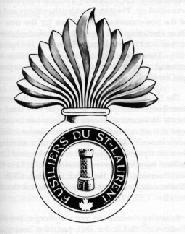 ---
Armorial Description
On a gold grenade fired proper of fifteen, a blue annulet edged gold, inscribed with the words FUSILIERS DU ST-LAURENT and marked at base by a gold maple leaf. Within the annulet a tower proper.
---
Official Abbreviation: Fus du St-L

Motto: J'y Suis En Garde (I am on guard)
---
Battle Honours (1)
First World War
---
Order of Precedence: 18
---
Go back to the Infantry Regiments page.
Go back to the Army home page.
December 5
1875:
General Arthur Currie, future commander of the Canadian Expeditionary Force in World War I, is born in Napperton, Ontario.
1934:
Abyssinia Crisis: Italian troops attack Wal Wal in Abyssinia, taking four days to capture the city.
1943:
THE MORO, effective dates for battle honour begin (to 7 Dec 43)
1964:
Vietnam War: For his heroism in battle earlier in the year, Captain Roger Donlon of Saugerties, New York is awarded the first Medal of Honor of the war.
1978:
The Soviet Union signs a 'friendship treaty' with the Democratic Republic of Afghanistan.
» Download the iPhone/iPad Military History app! «