They shall grow not old, as we that are left grow old
The Toronto Scottish Regiment (Queen Elizabeth The Queen Mother's Own)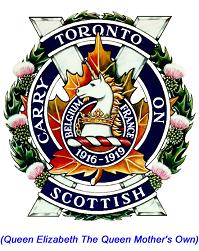 ---
Armorial Description
On a wreath of thistles, the Cross of St. Andrew, charged in the centre with a maple leaf, both interfacing an annulus inscribed with the motto CARRY ON; upon a second annulus placed on the centre of the maple leaf and inscribed BELGIUM FRANCE 1916-1919, a unicom's head couped and gorged with an antique crown chained, and resting on an heraldic wreath; on the upper and lower bends of the wreath and resting on the arms of the Cross two scrolls, the upper inscribed TORONTO and the lower SCOTTISH.
---
Official Abbreviation: Tor Scot R

Motto: Carry On
---
Battle Honours (37)
First World War
SOMME, 1916
AMIENS
Ancre Heights
Scarpe,1918
ANCRE, 1916
DROCOURT-QUTANT
ARRAS, 1917,'18
Hindenburg Line
VIMY, 1917
CANAL DU NORD
HILL 70
VALENCIENNES
Ypres, 1917
Sambre
PASSCHENDAELE
France and Flanders, 1916-1918
Second World War
DIEPPE
South Beveland
BOURGVTBUS RIDGE
THE RHINELAND
ST. ANDRT-SUR-ORNE
THE REICHSWALD
Verrieres Ridge -- Tilly-la-Campagne
Goch-Calcar Road
FALAISE
THEHOCHWALD
Falaise Road
Xanten
Clair Tizon
Twente Canal
Dunkirk, 1944
Groningen
ANTWERP-TURNHOUTCANAL
Oldenburg
THESCHELDT
North-West Europe, 1942,1944-45
WOENSDRECHT
Colonel-in-Chief: Prince Charles

Authorized Marches:
Quick March: Blue Bonnets Over The Border

Regimental Headquarters:
The Toronto Scottish Regiment
70 Birmingham Street
Toronto, ON, M8V 3W6

---
Order of Precedence: 47
---
Go back to the Infantry Regiments page.
Go back to the Army home page.
February 8
1894:
William Avery 'Billy' Bishop, VC, fighter ace & father of the RCAF, is born in Owen Sound, ON.
1943:
The Italian Submarine Avorio is cornered and sunk by HMCS REGINA in the Mediterranean.
1945:
Operation Veritable, Canadian and British troops launch offensive near Nijmegen to capture Reichwald area
1945:
THE REICHSWALD, effective dates for battle honour to begin
1945:
THE RHINELAND, effective dates for battle honour to begin (to 10 Mar 45)
» Download the iPhone/iPad Military History app! «