They shall grow not old, as we that are left grow old
The Princess of Wales Own Regiment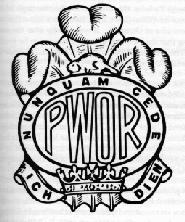 ---
Armorial Description
The Prince of Wales' plume enfiled in the coronet of a princess, resting on a waving scroll bearing the motto ICH DIEN. Surmounting the coronet, and shaded by the tips of the drooping plume a circle with the regimental motto NUNQUAM CEDE in relief. Above the circle a beaver, and within, the letters PWOR.
---
Official Abbreviation: PWOR

Motto: Nunquam Cede (Never Yield)
---
Battle Honours (19)
Early History
First World War
Mount Sorrel
PASSCHENDAELE
SOMME, 1916, '18
AMIENS
FLERS-COURCELETTE
Scarpe, 1918
Thiepval
Drocourt-Queant
Ancre Heights
Hindenburg Line
ARRAS, 1917, '18
Canal du Nord
VIMY, 1917
CAMBRAI, 1918
KILL 70
PURSUIT TO MONS
Ypres, 1917
FRANCE AND FLANDERS, 1915-1918
Honourary Distinction: The Badge of the Stormont, Dundas and Glengarry Highlanders with the year-dates 1944-1945 emblazoned on the Colours.
---
Order of Precedence: 8
---
Go back to the Infantry Regiments page.
Go back to the Army home page.
February 8
1894:
William Avery 'Billy' Bishop, VC, fighter ace & father of the RCAF, is born in Owen Sound, ON.
1943:
The Italian Submarine Avorio is cornered and sunk by HMCS REGINA in the Mediterranean.
1945:
Operation Veritable, Canadian and British troops launch offensive near Nijmegen to capture Reichwald area
1945:
THE REICHSWALD, effective dates for battle honour to begin
1945:
THE RHINELAND, effective dates for battle honour to begin (to 10 Mar 45)
» Download the iPhone/iPad Military History app! «