They shall grow not old, as we that are left grow old
Les Fusiliers Mont-Royal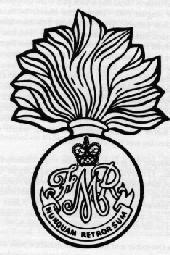 ---
Armorial Description
Upon the ball of a grenade with a flame of thirteen points, the letters FMR in script entwined, ensigned with the Crown; below, a scroll inscribed NUNQUAM RETRORSUM.
---
Official Abbreviation: Fus MR

Motto: Nunquam Retrorsum (Never retreat)
---
Battle Honours (29)
Early History
CANADA DU NORD-OUEST, 1885
First World War
YPRES, 1915, '17
COTE 70
FESTUBERT, 1915
AMIENS
SOMME, 1916
Linge Hindenburg
ARRAS, 1917, '18
PURSUITE MONS
Second World War
DIEPPE
l'Escaut
Crete de Bourguebus
Woensdrecht
SAINT-ANDRE-SUR-ORNE
BEVELAND SUD
CRETE DE VERRIERES -- TILLY-LA-CAMPAGNE
La Rhenanie
LE HOCHWALD
FALAISE
Route de la Falaise
Le Rhin
La Laison
GRONINGUE
Foret de la Londe
Oldenburg
DUNKERQUE, 1944
Nord-ouest de l'Europe, 1942, 1944-1945
ANVERS-CANAL DE TURNHOUT
---
Order of Precedence: 21
---
Go back to the Infantry Regiments page.
Go back to the Army home page.
February 8
1894:
William Avery 'Billy' Bishop, VC, fighter ace & father of the RCAF, is born in Owen Sound, ON.
1943:
The Italian Submarine Avorio is cornered and sunk by HMCS REGINA in the Mediterranean.
1945:
Operation Veritable, Canadian and British troops launch offensive near Nijmegen to capture Reichwald area
1945:
THE REICHSWALD, effective dates for battle honour to begin
1945:
THE RHINELAND, effective dates for battle honour to begin (to 10 Mar 45)
» Download the iPhone/iPad Military History app! «