Army.ca Myth
Subscriber
Donor
Reaction score

838
Points

1,060
A couple of more bits of data for the discussion
Common Cold - Learn about the causes, symptoms, diagnosis & treatment from the Merck Manuals - Medical Consumer Version.
www.merckmanuals.com
Common colds

are among the most common illnesses. Many different viruses (rhinoviruses, adenoviruses,

coronaviruses

, and human metapneumoviruses) cause colds, but

rhinoviruses (of which there are more than 100 subtypes) cause most cold

s. Colds caused by rhinoviruses occur more commonly in the spring and fall.

Other viruses cause common coldlike illnesses

at other times of the year.
Colds spread mainly when people's hands come in contact with nasal secretions from an infected person. These secretions contain cold viruses. When people then touch their mouth, nose, or eyes, the viruses gain entry to the body and cause a cold. Less often, colds are spread when people breathe air containing droplets that were coughed or sneezed out by an infected person. A cold is most contagious during the first 1 or 2 days after symptoms develop.
In my personal opinion, regardless of the effects of the SARS Coronavirus 2, there is little reason to expect it to develop any differently than its already endemic cousins. A cure for the common cold is probably just as likely.
Also
Antibody levels are one piece of the puzzle when it comes to fighting Covid, but they don't tell the whole story when it comes to immunity.
There's more to the immune system than antibodies​

The recent NYU study, which has not yet been peer-reviewed, focuses on antibody measurements (in a lab setting), but that's just one of many aspects of the immune system that contribute to protection against Covid, according to Shane Crotty, professor at the La Jolla Institute for Immunology who studies how the immune system remembers infections and vaccines.

"Your immune system is complicated, and doesn't just have one weapon," Crotty says. "You've got neutralizing antibodies, other kinds of antibodies, you've got memory B cells and T cells."
Antibody levels are just one factor that determines how protected you are against Covid and its variants. Here are the other elements that work together once you're vaccinated.
www.cnbc.com
Consider the system of systems and a mutually supporting layered defense in depth. The vaccines are particular weapons. And are effective contributors to the defense. But they are not the only defense.
I have added the Moderna MRNA vaccine to my arsenal with two shots. My wife has added the Pfizer MRNA and the Astra Zeneca, or Oxford vaccines to her arsenal with a shot of each.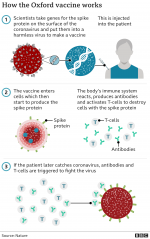 As the man said: You pays your money and you take your chances.
Good Luck! Deus Vult! Insh'Allah!