Reaction score

4,790
Points

1,160
I was intrigued by something I heard and looked into mount Everest stories.
Namely there are over 200 bodies of climbers left there. Some of them are "frozen in time" on the mountain due to the cold and height I guess.
It's standard to leave dead climbers where they died. Lots of them look like they sat down to take a rest and just don't get back up.
Tough place.
I think what caught my attention is our (military) culture of never leave a man behind.
Here's some pictures.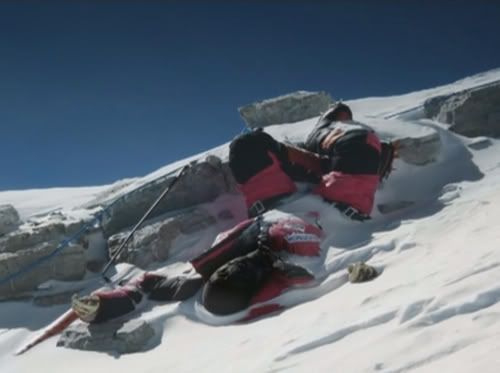 Here's a link too
http://sometimes-interesting.com/2011/06/29/over-200-dead-bodies-on-mount-everest/
"PLEASE don't leave me," the dying woman cried.  Two climbers heard the screams of Francys Arsentiev, an American woman who had fallen after succumbing to snow blindness and found herself separated from her husband.  They were in the "death zone," low on oxygen, and the woman was on the side of a steep cliff; carrying her was not an option.  The trip just to get down to her would be a risk for their own lives.  The two climbers, Ian Woodall and Cathy O'Dowd, climbed down to her and did what they could to keep her company, but it was too late.  They administered oxygen and tried to tend to Fran, but there was nothing they could do. Ian and Cathy returned down to base camp to ask for help and report their findings.
The link somewhat contradicts that bodies are just left where they've fallen though,  it being against Nepalese law.